Market Summary
Investors gained N390 billion this week as the equity market remain upbeat following the cut in MPR to 11.5%. The All-Share Index (ASI) appreciated by 1.28%to close at 26,319.34. All other market indices also appreciated except the oil and gas index which lost -0.51%.
Today's gain is the biggest one-day gain of the market since 27th July 2020 as it abates the year-to-date loss of the Market to -1.95%.
The Market Capitalization of listed equities gained N173.6 billionto close at N13.75 trillion.
See below for a snapshot of changes in the stock market and economic indicators.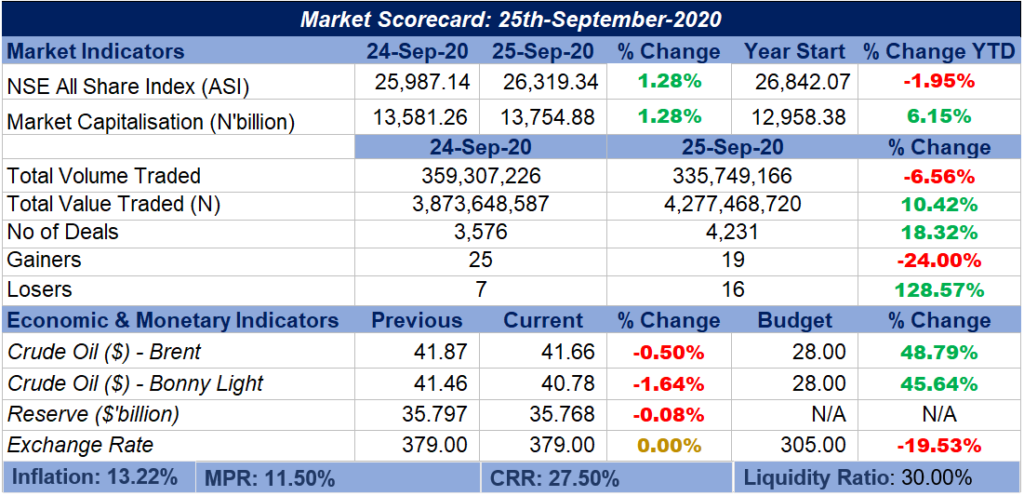 Market Breadth
Nigerian Breweries (NB) Plc led the gainers' chart with a gain of 9.82% while Northern Nigeria Flour Mills Plc (NNFM) lost -10.00% to finish as the biggest loser. See the list of top gainers and losers below:

Market Volume
In 4,231 deals, Investors exchanged over 335 million units of shares valued at over N4.27 billion. Dangote Cement, Zenith Bank and Stanbic IBTC Bank dominated the turnover chart. See top 10 traded stocks below: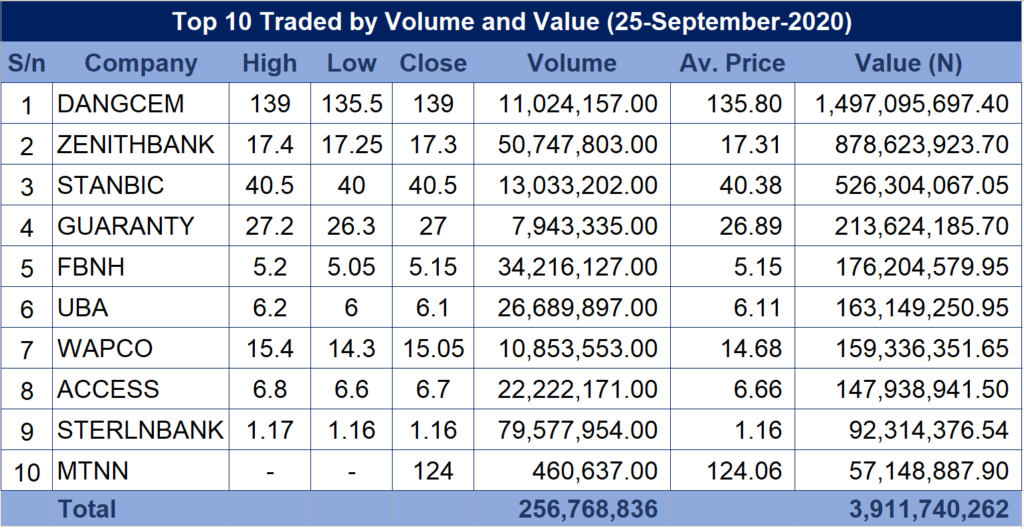 Corporate Disclosures
Anino International Plc
Notice of Annual General Meeting … Read here
Date: 13th October, 2020
Time: 10 am
Venue: 21B Kofo Abayomi Street, Victoria Island, Lagos
Unaudited Interim Financial Statements for the Period (3 Months Result Q2) Ended, 30th June 2020
Revenue: N84.46 million
PBT: N1.69 million
PAT: N1.15 million
EPS: 2.25 kobo per share Read here
Flour Mills of Nigeria Plc – Press Statement on Floods at Sunti Golden Sugar Estate…Read here
Transcorp Hotels Plc – Notice of Closed Period
The Board of Directors of Transcorp Hotels Plc ("the Company") has scheduled its 76th Board meeting to hold on October 14th, 2020, to consider among other things the Unaudited Financial Statement of the Company for Q3, 2020.
Consequently, the Company hereby notifies The Exchange of commencement of its closed period from September 29, 2020 up to twenty-four (24) hours after the release of the Company's Q3, 2020 Unaudited Financial Statement… Read here
Zenith Bank Plc – Notification of Share Dealing by Insider… Read here
Name: Dr. Temitope Fasoranti (Executive Director)
Nature of Transaction: Purchase of shares
Volume: 1,000,000 units
Price: N16.80 per unit
UBA Plc – Notification of Share Dealing by Insider… Read here
Name: Tony O. Elumelu, CON (Board Chairman)
Nature of Transaction: Purchase of shares
Volume: 116 units
Price: N6 per unit
Sovereign Trust Insurance Plc – Set Date to Hold 25th AGM… Read here
Date: Thursday, October 22, 2020
Venue: Bay Lounge Hall, Block 12A, located on 10, Admiralty Road, Lekki, Phase 1, Lagos
Stanbic IBTC Plc – Appointment of Mrs. Sola David-Borha as Non-Executive Director – Stanbic IBTC Holdings PLC
The Board of Directors (the Board) of Stanbic IBTC Holdings PLC ("the Company") is pleased to announce the appointment of Mrs Sola David- Borha as a Non-Executive Director with effect from 24 September 2020, following the receipt of all required regulatory approvals… Read here
Fidelity Bank Plc – Notification of Share Dealing by Insider
Name: Mr. Oboro Odeghe (Executive Director) … Read here
Nature of Transaction: Purchase of shares
Aggregate Volume: 2,000,000 units
Average Price: N 1.795 per unit
Name: Mr. Gbolahan Joshua (Executive Director)… Read here
Nature of Transaction: Purchase of shares
Aggregate Volume: 2,323,529 units
Average Price: N 1.8 per unit