Market Summary
The All-Share Index (ASI) appreciated by 0.79%to close at 25,987.14 points as against 25,783.02 points recorded at the close of trading on Wednesday.
Today's gain is the biggest one-day gain of the market since 12th August 2020 as the MPR cut continues to fuel positive sentiments in the market, this further abates the year-to-date loss of the Market to –3.19%.
The Market Capitalization of listed equities equally appreciated by 0.79% to close at N13.58 trillion as against N13.47 trillion recorded at the close of trading on Wednesday.
See below for a snapshot of changes in the stock market and economic indicators.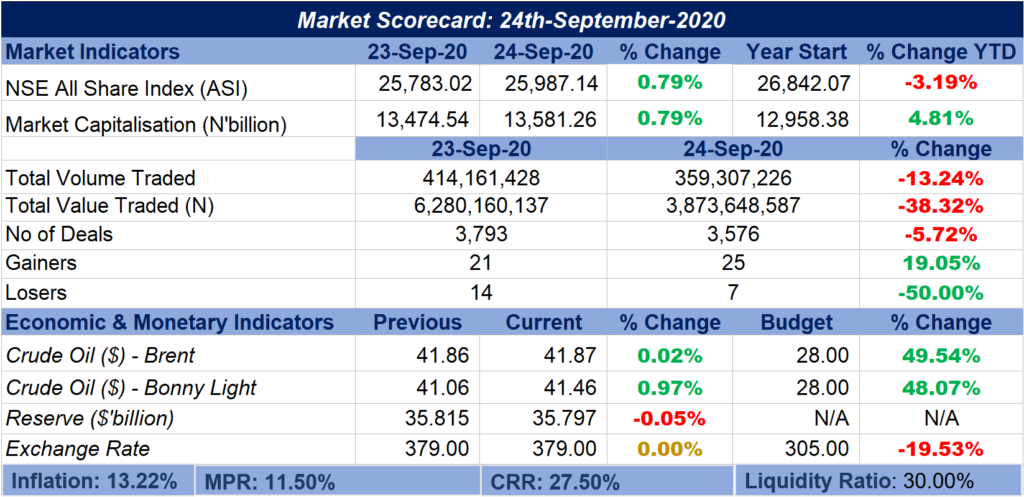 Market Breadth
Nigerian Breweries Plc led the gainers' chart with a gain of 10.00% while Ardova Plc finished as the biggest loser as it lost -9.65% to close at N10.30. See the list of top gainers and losers below:

Market Volume
In 3,576 deals, Investors exchanged over 359 million units of shares valued at over N3.87 billion. GTB, ZENITH and Flour Mills dominated the turnover chart. See top 10 traded stocks below: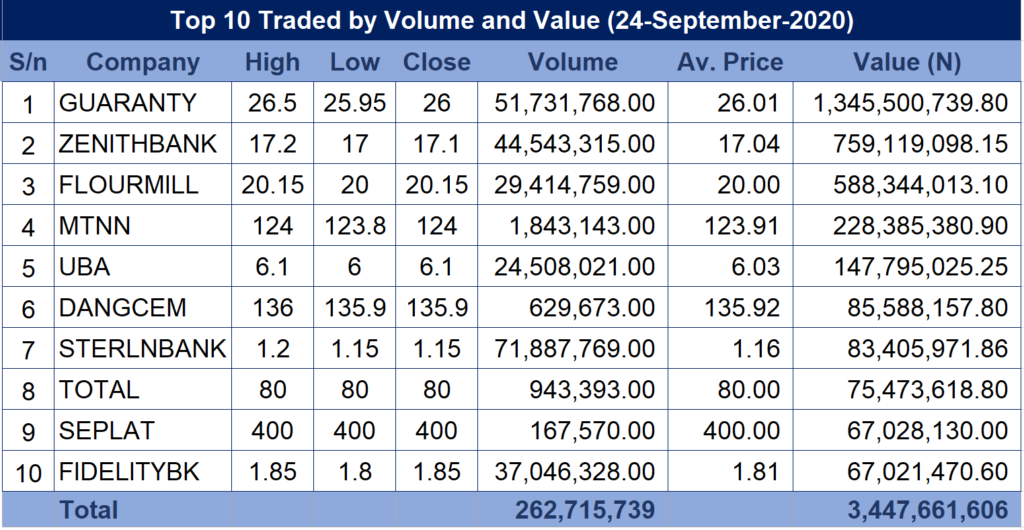 Corporate Disclosures
Julius Berger – Board Approval of Diversification Opportunity (Ad-Hoc Announcement)
… We have severally advised the Market that Julius Berger will be looking into diversification opportunities, based on the emerging developments, political, economical and structural in Nigeria and the resultant reforms by the Governments.
We would advise the Exchange and the Capital Market that the Board of Julius Berger at its meeting held on September 22, 2020 approved a diversification opportunity for the Company in Agro-processing… Read here
Cutix Plc – Notification of Share Dealing by Insider… Read here
Name: Dr. Gilbert obiajulu Uzodike (Substantial Shareholder)
Nature of Transaction: Purchase of shares
Volume: 300,000 Shares
Price: N1.70 per share
Sovereign Trust Insurance plc – Profit Forecast for Q3 2020… Read here
Gross Premium Written: N10.39 billion
Underwriting Profit: N2.57 billion
PBT: N1.14 billion
Cash and Cash Eqv. : N2.9 billion
Sovereign Trust Insurance plc – Profit Forecast for Q4 2020… Read here
Gross Premium Written: N12.22 billion
Underwriting Profit: N3.03 billion
PBT: N1.34 billion
Cash and Cash Eqv. : N2.93 billion